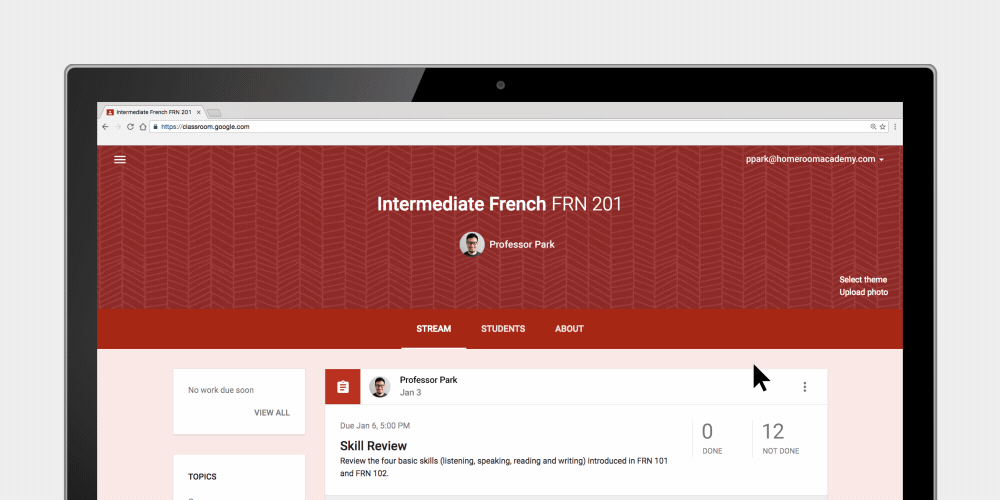 Google Classroom is designed for everyone involved in a student's education. More than 20 million educators and students use it to teach and learn together, as do administrators who oversee how this tool is used across classrooms, and developers who are building educational technology for the next generation. As everyone heads back to school to start the new semester, we're releasing new Classroom updates designed specifically for each of these groups.
For students: individualized work for differentiated learning
We know that one-size-fits-all teaching doesn't always meet students' needs, and we've been impressed with the workarounds Classroom teachers have found to differentiate their instruction. Starting today, Classroom makes it a lot easier for teachers to assign work to individual students and groups based on their unique needs. As they're creating an assignment, post or question, teachers can choose whether to share it with the entire class or just with a subset of students.
Juli Dalzell, a seventh-grade teacher at Thomas A. Blake Middle School in Medfield, MA, says she likes how the new feature lets her teach students who may grasp concepts at different paces. "I can assign different levels of questions or quantities of assignments," says Dalzell. "Also, I can push out documents, such as answer keys, as students complete their assignments."
With this feature, students can also discreetly receive extra practice if they're struggling with a new subject. Sara Enberg, a library media specialist at River Willow Elementary School in Hudson, WI, says that the new update creates "an easy way to assign a reteaching or extension activity for students who are struggling… Just a quick simple video for a couple of students and they were back on track."
For teachers: new notifications to manage student work
We understand the information overload that teachers feel
Continue Reading
If you're a Gmail user, chances are that you've heard of "Undo Send" feature. This feature makes your mail to sit in the Outbox for a predetermined amount of time before being sent out, giving you a grace period where you're able to modify or retract it.
Microsoft's Outlook client has such a feature as well, although it is buried beneath a bunch of menus. If you're interested in activating this feature, here's what you can do:
Step 1
Open up your Outlook client, click on File, then select Manage Rules & Alerts
Step 2
In the Rules and Alerts window, click on New Rule and choose the "Apply rule on messages I send" located at the bottom of the list.
Step 3
Clicking on "Next" will bring you to the conditions page. If you have no particular conditions you would like to add onto the initial rule, click "Next" again.
On the Actions page, check the "defer delivery by a number of minutes" box. Clicking on the blue-tinted text will open a dialog box that allows you to enter your preferred amount of time.
Step 4
Once you've decided the time frame, clicking on "Next" will bring you to the exceptions page. If you have no exceptions to add, click "Next".
This will open up the "Finish Rule Setup" page where you can name
Continue Reading
With smartphone screen sizes increasing, developers have to make sure they can find ways to prepare the UI for one-hand usage. Today, it is discovered that Apple has already been working on a one-handed keyboard that can be (eventually) activated via edge-swipe. The feature has yet to be completed though.
Developer Steve Troughton-Smith who discovered the existence of this keyboard inside Apple's iOS simulator, says that this the code for this feature has existed in the iOS Xcode since iOS 8. However, Apple yet to announce the implementation of the feature.
The one-handed keyboard can be activated with swipes from the edge of the keyboard. This would cause iOS to pull all the keys to one side or the other. You can see this in the gif below.
Video or it didn't happen: (very hard to engage in the Simulator with a mouse cursor) pic.twitter.com/vw2wpCgiLJ

— Steve T-S (@stroughtonsmith) October 19, 2016
If you want to check this out yourself, Troughton-Smith has since published the code chunk, so you can give it a spin but noted that you'll likely need a jailbroken iPhone to use it.
A little more context for anybody wanting to make a jailbreak tweak to turn this on (assuming one doesn't already exist – I dunno) pic.twitter.com/We5WymSXOa

— Steve T-S (@stroughtonsmith) October 19, 2016
Continue Reading
Facebook Live Broadcast will be getting an often requested feature on Thursday as the company has announced that it will be updating its Live API to allow users to schedule live broadcasts ahead of the actual stream.
Unfortunately, this feature will only be available for users with Verified Pages, so those who wish to utilise this feature would need to acquire verification from Facebook. Assuming that you own a Verified Page, here's how you can schedule a live broadcast when the feature goes live.
Step 1
Go to your Publishing Tools, select "Video Library", and then click on "Live"
Step 2
Copy and paste your stream credentials into the dialog box. If you don't wish to do so now, you can always do so later by editing the post in the Video Library.
Step 3
Write a post to announce your scheduled stream. You can choose to be as informative and engaging as you want to.
Step 4
Select your scheduled start time, add a custom image to your broadcast (if you want), then click on schedule. Your friends would be notified by Facebook of your scheduled broadcast and it will appear on their News Feed.
Step 5
In the event that you wish to reschedule or delete your live broadcast session, you can do so by opening the "Edit Live Video" option. For rescheduling, choose the "Edit Schedule" option via the drop down arrow, choose a new time,
Continue Reading
Instagram is quietly phasing out its photo maps feature.
The Facebook-owned photo- and video-sharing network confirmed to Emma Hinchliffe of Mashable that it began removing the feature for some users last week, saying:
Photo map was not widely used, so we've decided to remove the feature and focus on other priorities.
Instagram told Hinchliffe some Instagram users are seeing other profiles without photo maps, adding that the feature will be removed from users' own profiles, as well.
Hinchliffe shared the screenshots below, displaying Instagram profiles with and without the photo maps feature, respectively.
Instagram users: Did you use photo maps?
Continue Reading
Tumblr introduced two new features that allow mobile users to quickly reblog posts and quickly share posts with other users.
With the new quick reblog feature, iOS and Android users can now hold down the reblog button on a post and drag their finger to the Tumblr they'd like to reblog the post to.
In terms of sending content to other users, Android users can now hold down the airplane button and drag their finger to the Tumblr they'd like to send the post to. While this sending feature is currently only available for Android users, Tumblr said the feature is coming soon to iOS.
Readers: What do you think of these two new Tumblr features?
Continue Reading
Lyft has begun testing a ride-scheduling feature in San Francisco, allowing users to schedule rides up to 24 hours in advance.
To schedule rides, users can select their pickup locations and tap the clock icon on the right side of the screen to set their pickup times. Users can change or cancel their scheduled rides up to 30 minutes before their requested times.
As reported by CNET, there will be no extra charge for a scheduled ride, but "there will be a minimum fee for the trip." In addition, Lyft is reportedly testing how surge pricing may affect scheduled rides.
For now, Lyft's ride scheduling feature is available to users in San Francisco, although the company said it will make the feature available to more customers this summer.
Readers: Will you try Lyft's ride-scheduling feature?
Continue Reading
YouTube launched a new in-app messaging feature for a "small percentage of YouTube users," according to a report from Wired. The feature allows users to share videos with friends, as well as chat about those videos within the application.
According to Wired, as the feature's initial users invite their friends into conversations, they'll receive access to the feature, as well. Users can chat about a single video in a thread, or share multiple videos over time. These conversations are stored under a new tab in the app.
In addition to now allowing users to recommend videos to their friends directly, YouTube also recently updated the machine learning engine behind the video recommendations presented to users on the app's home page. With this update, the home page can now feature recommended content that was uploaded less than an hour earlier, as well as videos from channels users have subscribed to.
Readers: Are you excited to try YouTube's new messaging feature?
Image courtesy of YouTube.
Continue Reading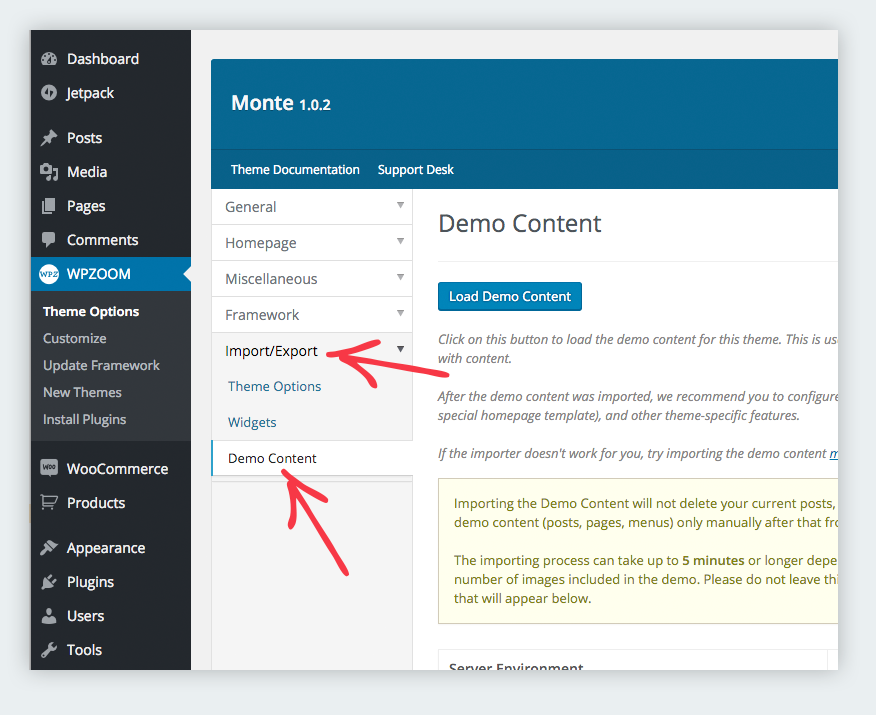 Today we're happy to announce the addition of a very useful feature in all of our themes. The new feature is called "Demo Content Importer" and it allows you to install within 1-click the sample content from each theme demo page.
The new feature can be accessed from the Import/Export menu in the Theme Options Page after updating to ZOOM Framework 1.6.0.
---
Below you can see a quick video of how this feature works after updating the framework to the latest version:
More information about this feature can be found in our Knowledge Base.
Continue Reading