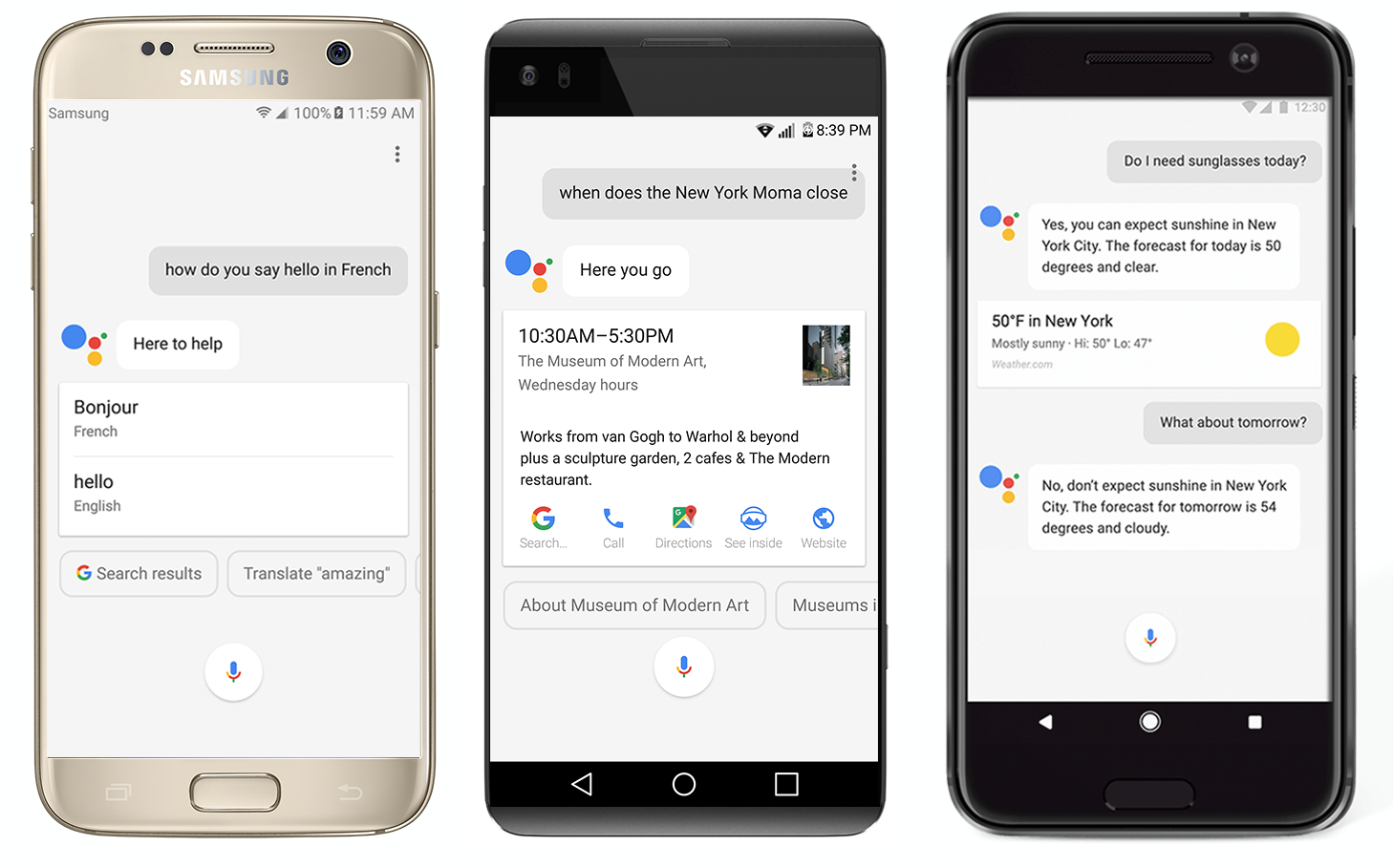 Everyone needs a helping hand sometimes. Enter the Google Assistant, which is conversational, personal and helps you get things done—from telling you about your day to taking a selfie. The Assistant is already available on Pixel, Google Home, Google Allo and Android Wear. Now we're bringing it to even more people. Starting this week, the Google Assistant is coming to smartphones running Android 7.0 Nougat and Android 6.0 Marshmallow.
Whether you need to know how to say "nice to meet you" in Korean or just a simple reminder to do laundry when you get home, your Assistant can help. With the Google Assistant on Android phones, you have your own personal, helpful Google right in your pocket.
And here are a few other things to try out—just long press on the Home button or say "Ok Google" to get started:
What's my confirmation number for my London flight?
Take me to Museu Picasso.
Show my photos of sunsets in Tahoe.
Do I need an umbrella today?
Turn on the living room lights.
The Google Assistant will begin rolling out this week to English users in the U.S., followed by English in Australia, Canada and the United Kingdom, as well as German speakers in Germany. We'll continue to add more languages over the coming year.
The Google Assistant will automatically come to eligible Android phones running Nougat and Marshmallow with Google Play Services. You'll also see the Google Assistant on some newly announced partner devices, including the LG G6.
If you happen to be in Barcelona, Spain at the mobile industry's largest trade show <a
Continue Reading
Updating the security and privacy settings on your Android device can be quite a hassle as it requires you to dig through multiple menus. However, if you own an Android device, you can just jump through the hoops and get straight to the settings by using your voice.
For that, all you need to do is toggle Google Now or Google Assistant on your Android device. Once the device is listening, you can speak the following commands to it and your Android device will do the corresponding actions:
"Show me my Google account" – The device will bring you to the basic settings menu of your Google account.
"Show my Google search history" – The device will bring you to your account's search activity page.
"Adjust my Google privacy settings" – The device will launch Google's privacy checkup tool.
"Adjust my Google security settings" – The device will launch Google's security checkup tool.
Before you're allowed to make any changes to these settings, Google will most likely prompt you for your password. Once you've done so, you can proceed to make the appropriate changes according to your needs.
Continue Reading
Pop-up/overlay box messages or modal windows are usually used to promote products and services to visitors. Obviously, no one loves to be disturbed by a pop-up window while browsing, but it's possible to at least minimize the nuisance with good design. Though its presence in a website is debated for user experience, it can draw more conversion when used right. Here you'll get to see some of the best examples of well-designed pop-up boxes that were created by creative and talented designers. Apply your meticulous designer eyes in these list and maybe get some ideas that you can use for
The post 40 Pop-Up Design Examples For Web Design appeared first on Naldz Graphics.
Continue Reading
Drones have been used to do filming and aerial photography, however, the idea of utilising drones to deliver packages also isn't a new one, considering the fact that Amazon has been testing out such a system via its Prime Air initiative for a while now. However, Amazon isn't alone in this endeavour as logistics company UPS has begun testing its own drone delivery system.
Unlike Amazon's method of deploying drones directly from one of its many warehouses, UPS is looking to deploy its drones from a delivery truck instead. According to a report by The Verge, UPS has hired a company called Workhorse to develop the delivery truck and the drone that will be used for the system.
The way the system works is rather straightforward. The driver of UPS would drive the delivery truck to a place that is near to the delivery location. Once there, the driver would load the drone up with the correct packages.
After all the packages are loaded, the driver would open the slidable roof of the truck, after which the drone would depart towards the delivery location. Once the delivery is completed, the drone would automatically fly back towards the truck.
So far, two tests have been conducted using this particular drone delivery system. The
Continue Reading
Eero Aarnio is the designer and innovator behind some of the most recognisable Finnish furniture pieces of the last century. The Helsinki studio of Bond created the logo for Eero Aarnio Originals, the new company that manufactures Aarnio's original designs. The logo is based on Aarnio's most iconic piece, the Ball chair.
Photography by Carl Bergman.
Bond, founded in Helsinki in 2009, usually always come up with three ideas.
The Ball chair was designed in the early 1960s, debuting at the Cologne Furniture Fair in 1966.
"And since I tend to simplify things, I removed all the corners."
— Eero Aarnio
More from Bond (and on Twitter).
Continue Reading