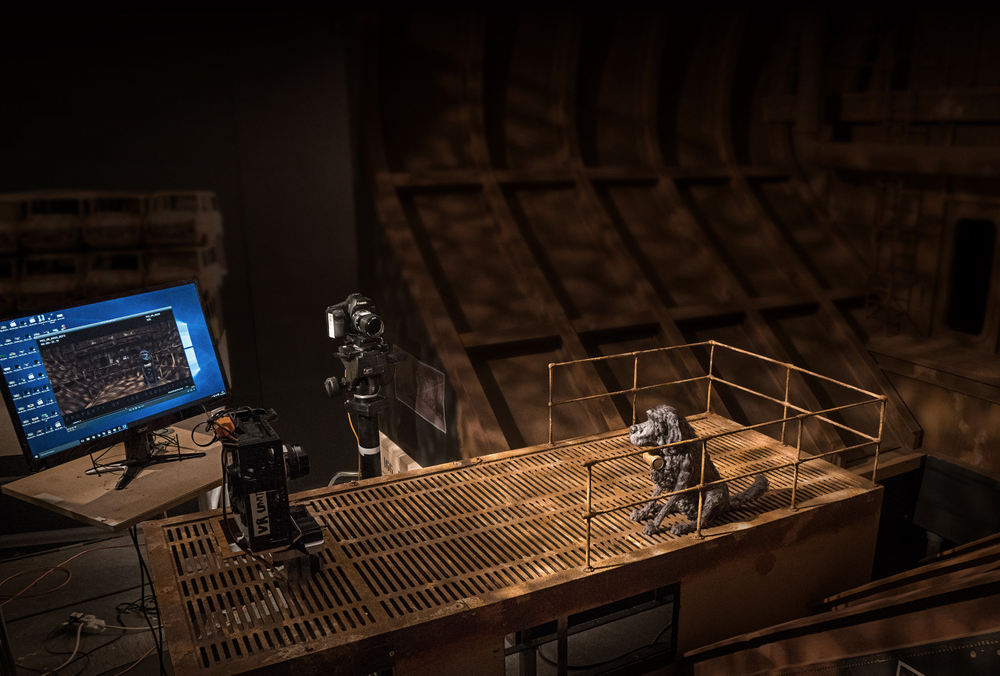 "Isle of Dogs" tells the story of Atari Kobayashi, 12-year-old ward to corrupt Mayor Kobayashi. When, by Executive Decree, all the canine pets of Megasaki City are exiled to a vast garbage-dump, Atari sets off alone in a miniature Junior-Turbo Prop and flies to Trash Island in search of his bodyguard-dog, Spots. There, with the assistance of a pack of newly-found mongrel friends, he begins an epic journey that will decide the fate and future of the entire Prefecture.
The film isn't out until March 23—but Pixel owners will get an exclusive sneak peek this week.
In "Isle of Dogs Behind the Scenes (in Virtual Reality)," the audience is taken behind-the-scenes in a 360-degree VR experience featuring on-set interviews of the film's cast (voiced by Bryan Cranston, Bill Murray, Edward Norton, Liev Schreiber, Jeff Goldblum, Scarlett Johansson, Tilda Swinton, F. Murray Abraham and Bob Balaban). Get nose-to-nose with Chief, Boss, Rex and the rest of the cast while the crew works around you, for an inside look at the unique craft of stop-motion animation.
Pixel's powerful front-firing stereo speakers and brilliant display make it perfect for watching immersive VR content like this. Presented in 4K video with interactive spatial audio that responds to where you're looking, "Isle of Dogs Behind the Scenes (in Virtual Reality)" is a collaboration between FoxNext VR Studio, Fox Searchlight Pictures, Felix & Paul Studios, the Isle of Dogs production team, and Google Spotlight Stories.
"Isle of Dogs Behind the Scenes (in Virtual Reality)" is available today on the Google Spotlight Stories app, exclusively for Google Pixel phones (Pixel and Pixel 2) and best watched on the Daydream View headset. To watch, download the Spotlight Stories app.
On March 2, "Isle of Dogs Behind the Scenes (in Virtual Reality)" will become available in VR, 360 and 2D via YouTube VR
Continue Reading
Statistics show that YouTube is now the second most popular social networking site; with 1.5 billion users just behind Facebook's 2.1 billion. These figures provided by DreamGrow show that video content is leading the way far beyond static photography – even Facebook timelines are now filled with video.
Even the world's most popular photo-sharing platform, Instagram, has just 800 million users; around half the volume of YouTube's. Tellingly, Instagram is also filled with moving pictures, via its hugely popular Stories and Boomerang add-ons, plus video-snippet sharing capabilities on its regular grid.
So – it's safe to say that video is the internet's most engaging and engaged-with content. Does your website reflect this? If not, you need to act now. Here's all the reasons why you should bring your site and therefore your business up-to-date, before the latest upgrade of the digital age renders you obsolete.
It's vital for SEO
Google is always watching – and it sees that people love watching video. We humans are arguably lazy creatures, who will always prefer to be explained to rather than attempt to read and understand things ourselves. This is a primary reason for YouTube's meteoric rise, and therefore why people choose to visit sites with high video content. Search engines register that people stay on pages much longer where videos are present, and voila – sites featuring lots of videos are bumped up to top spots in search results. We all know by now that top rankings equal more visits and more business. What does this mean? You guessed it. Your site needs video, front and centre.
Stand out from the crowd
Having said this, there are still hundreds of thousands of sites that have not cottoned on to this trend. Getting ahead of the crowd now by creating video content for your site will
Continue Reading
Technology has been developing greatly in the last few years. Now teenagers and adults are gradually getting used to new opportunities.
Indeed, we cannot imagine our life without smartphones, the Internet, YouTube, cameras, and so on. Maybe this situation has some bad sides because sometimes teenagers forget about the "offline" world. Nevertheless, all of us know how many advantages we have with the technically advanced reality.
Why Technologies Are Essential
We could spend considerably less time on searching for the needed information or writing an essay. Saved hours could be spent on, say, learning more about other countries and cultures at home, communicating with people who are very far away from us, and using loads of other opportunities.
Talking about essays, you can check out papercheap.co.uk if you need an original paper.
The world is changing, developing every day. And our future may seem a scene from a fantastic movie. But the predictions are that we do not need to use our imagination in order to find out what our future will look like. What's more, we can try to foresee it without any witchcraft.
Visualization: Make Your Thoughts Visible
Nowadays, scientists are trying to see human thoughts on special screens. Although these experiments are not very successful now, researchers are sure that the gadgets visualizing our thinking may exist in the near future, and it would become a usual thing, just like as a smartphone for each of us today.
And such device would change the whole media market of the planet.
How Does It Work?
Such neurocomputer interface would be able to "read" human thoughts and transmit them to the monitor of a computer. It may be difficult to believe in that, but people in the 18th century did not believe in smartphones and Facetime, so you can draw a conclusion.
If this invention once came to reality,
Continue Reading
In the old days, you'd have about seven seconds to make a first impression.
However, thanks to the instantaneous nature of the Internet, in today's world, you have even less. Now, your brand only gets about 2/10 of a single second to leave a lasting impression online.
This means that every single feature — from your site speed to the type of font you use — counts.
One thing that's especially important when it comes to building brand recognition and helping customers to make an emotional connection with your company?
What does your current design communicate to both potential and current customers? Further, is it saying what you want it to?
Read on to find out.
Color Communication
The color that you select is likely the foundation of your overall logo design.
You might already have specific "company colors" in mind, or you might be considering selecting new shades as part of a rebranding process.
Let's quickly take a look at the psychological impact three popular colors have on consumers.
Red
Red shades have been scientifically proven to increase a person's pulse and overall blood pressure levels. It's associated with a sense of urgency, so usually, customers connect it to a sale or a limited-time offer.
It certainly communicates a sense of authority and energy, but it may be too harsh for some industries and logos.
Green
Using the color green in your logo design usually means one of two things. It either indicates that you're a natural/organic brand, or it signifies that you work within the financial world.
It makes people think of profits, loyalty, intelligence, healing, and even safety.
Blue
Blue is often associated with creativity and tranquility.
This means that it works just as well for design and architecture firms as it does for spa and wellness centers. It allows consumers to relax, and instills a sense of trust
Continue Reading
Do 404 error pages make you cringe? Get inspired by this cool set of error and under construction illustrative backgrounds.. Broken links and "under construction" pages in your website don't have to be generic or uninspiring. Keep your visitors interested even if they land on an error page or while your page is under maintenance with these fun backgrounds by Freepik and Flaticon. These cute illustrations will guarantee a smile from anyone and keep visitors interested in your content. About These Error Pages These vector designs can be customized to fit your brand by changing the background color or switching …
Continue Reading